There's no other assessment as popular as the PHQ-9 (Patient Health Questionnaire 9) and the GAD-7 (Generalized Anxiety Disorder 7). These are not just popular among psychologists and therapists but even the general population are familiar with these assessments. And I know, for a fact, that many doctors just know ONLY about the PHQ-9 and GAD-7 when it comes to psychological tests.
Let me just provide you some interesting facts to establish the omnipresence of these two assessments;
In Sep-Oct 2022 recommendations, the US Preventive Services Task Force (USPSTF) recommended routine screening for anxiety in children, adolescents and adults. And the top recommended screening test is the Generalized Anxiety Disorder (GAD) scale.
Leading governmental authorities across the globe have endorsed the assessments. To name a few – the United States Department of Veterans Affairs , the Department of Health and Social Care in England, Ministry of Health and Family Welfare India etc.
Google, the most popular search engine on planet, has recommended and used the PHQ-9 and GAD-7 for wide screenings. Here is the link which you can checkout if you are in the US or Australia – https://health.google/consumers/self-assessments/.
Leading heath surveys like – The Behavioral Risk Factor Surveillance Survey (BRFSS), the National Health and Nutrition Examination Survey, the Medical Expenditure Panel Survey, the National Epidemiologic Survey on Alcohol and Related Conditions, the Medicare Health Support program, and the Millennium Cohort Study etc. use the instruments derived from the PHQ.
The original PHQ-9 article has been derived has been cited in over 33,000 publications ever since it's publication in 2001.

History of the PHQ
The PHQ is a self-administered version of the PRIME-MD. So what is PRIME-MD? In the mid 1990s, researchers ( Robert L. Spitzer, MD, Janet B.W. Williams, DSW, and Kurt Kroenke, MD, and colleagues) at the Columbia University realised that recognizing signs of mental health disorders is not always easy. And to solve this, they went on to build the PRIME-MD, a diagnostic tool containing modules on 12 different mental health disorders. And the pharmaceutical giant Pfizer Inc. funded this project. Although the copyright of the PHQ-9 is with Pfizer, it has kept the access open to all to stay true to the original intent to enable clinicians easily recognize signs of mental illness stays intact.
The PHQ, a self-administered version of the PRIME-MD, contains the mood (PHQ-9), anxiety, alcohol, eating, and somatoform modules as covered in the original PRIME-MD. The GAD-7 was subsequently developed as a brief scale for anxiety. The PHQ-9, a tool specific to depression, simply scores each of the 9 DSM-IV criteria based on the mood module from the original PRIME-MD. The GAD-7 scores 7 common anxiety symptoms.
Patient Health Questionnaire (PHQ) Family of Measures
Let us have a quick look at the most commonly used versions of the PHQ scales and their scoring;
Measure
Description
Scoring
PRIME-MD
Predecessor of PHQ, now mainly of historical interest.
Combined self-administered patient screener with clinician follow-up questions.
PHQ
Five modules covering 5 common types of mental disorders: depression, anxiety, somatoform, alcohol, and eating.
Selected (but provisional) DSM-IV diagnoses for all types of disorders except somatoform.
PHQ-9
Depression scale from PHQ.
Nine items, each of which is scored 0 to 3, providing a 0 to 27 severity score.
GAD-7
Anxiety measure developed after PHQ but incorporated into PHQ-SADS.
Seven items, each of which is scored 0 to 3, providing a 0 to 21 severity score.
PHQ-15
Somatic symptom scale from PHQ.
Fifteen items, each of which is scored 0 to 2, providing a 0 to 30 severity score.
PHQ-SADS
PHQ-9, GAD-7, and PHQ-15 measures, plus panic measure from original PHQ.
See scoring for these scales above.
Brief PHQ
PHQ-9 and panic measures from original PHQ plus items on stressors and women's health.
See scoring for PHQ above. Stressor and women's health items are not diagnostic or scored.
PHQ-A
Substantially modified version of PHQ developed for use in adolescents. Moderate data exists for validity but much less than for original PHQ.
Diagnostic scoring described in manual.
PHQ-2
First 2 items of PHQ-9. Ultra-brief depression screener.
Two items scored 0 to 3 (total score of 0-6)
GAD-2
First 2 items of GAD-7. Ultra-brief anxiety screener.
Two items scored 0 to 3 (total score of 0-6)
PHQ-4
PHQ-2 and GAD-2.
See PHQ-2 and GAD-2 above.
PHQ-8
All items of PHQ-9 except the 9th item on self-harm. Mainly used in non-depression research studies.
Eight items, each of which is scored 0 to 3,
providing a 0 to 24 severity score.
Reproduced from the Instruction Manual available at https://www.phqscreeners.com/images/sites/g/files/g10016261/f/201412/instructions.pdf.
More detailed information – scoring, interpretation, printable PDF etc. about the popular assessments in the PHQ is available at;
Who is the PHQ for?
Age range
Most of the PHQ scales have been validated for ages 13 years and above.
Translations
Due to it's popularity and demand by clinicians, researchers, social workers and therapists, the PHQ has been widely translated into numerous languages;
Czech for the Czech Republic
Danish for Denmark
Dutch for the Netherlands
English
Finnish for Finland
French for Canada
French for France
German for Germany
Hebrew for Israel
Hungarian for Hungary
Italian for Italy
Korean for Korea
Malay for Malaysia
Mandarin for Malaysia Norwegian for Norway
Polish for Poland
Portugese for Brazil
Russian for Russia
Spanish for Spain
Spanish for the USA
Swedish for Sweden
Traditional Chinese for Hong Kong Traditional Chinese for Taiwan
Please note the above list of languages is not exhaustive.
Criticism of the PHQ
While the PHQ assessments are insanely popular. But this does not come without any criticism.
It has been alleged that the PHQ-9 began with a marketing man, Howard Kroplick to promote Pfizer's recently released Zoloft, one of a new generation of antidepressants called SSRIs. You can read more about it here.
Over-diagnosing depression because of false-positives since the GPs are too reliant on the questionnaire.
Some participants/patients have also expressed that the questionnaire is too crude and did not provide opportunity to accurately express the extent of their symptoms.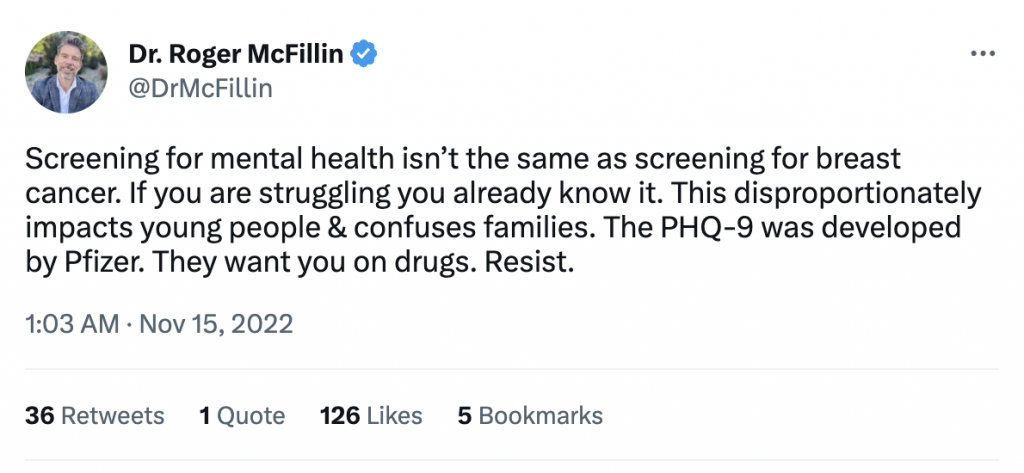 In the defence of the questionnaire, all such tools serve the purpose of screening and must be followed up with a clinical interview with a professional to establish diagnosis.
PHQ with PsyPack Assessments
If you are a therapist, social worker, GP, you can easily conduct the PHQ-9, GAD-7 and PHQ-15 online with PsyPack online assessments.
PsyPack can help you conduct psychological assessments via tele-health easily. PsyPack is an online software to help psychologists, therapists, social workers and counselors, administer psychological tests online to their clients, score tests automatically, and prepare detailed reports in a fraction of second. It helps you store your clinical records of your testing in a HIPAA compliant manner.
PsyPack comes pre-loaded with numerous standardised psychological tests. Staying true to the spirit of the PHQ, we have included PHQ-9 and the GAD-7 in the free forever Beginner Plan of PsyPack. Try PsyPack now;
References